Life at Campus
Raghavendra Institute of Pharmaceutical Education and Research (RIPER) imparts not only high quality of education associated with that provides various opportunities and experiences that build community, help to grow in professional manner throughout the life. The institute comprises of lush green garden with cool weather and spacious building with all the educational facilities.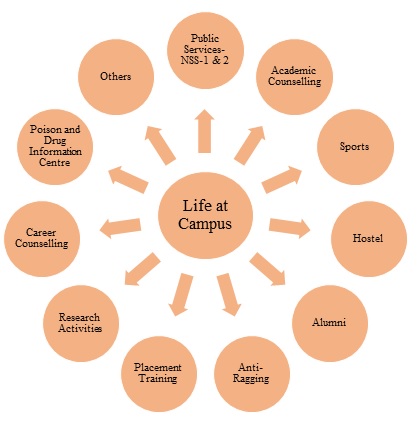 Cultural Programmes:
RIPER conducted many cultural activities in intra and inter college competitions. Among them some of the programmes like freshers's day, annual day celebrations.
Sports Week:
RIPER has excellent sports and recreation facilities on campus, with dedicated facilities for table tennis, basketball, badminton, cricket, volley ball etc. Students participate regularly in Inter Collegiate, Inter University and State level tournaments and National wide programmes.
Academic Counselling:
RIPER faculty has been taken care to mold the students for bringing them into brighter in the aspects of research and others activities. Academic counselling shall be done through Academic Council Board meeting held it on monthly basis or whenever required.
Career Counselling:
RIPER conducting many career development programmes for the sake of students with respect to their improvements.
Placement Training:
Training and Placement cell facility in RIPER provides the training in the aspects of knowledge and communicative skills and it is headed by the placement officer. The main responsibility of placement office is to provide the placements for the students of RIPER.
Anti-ragging:
Ragging is completely restricted by the institute anti-ragging committee. The committee always monitors the activities in the institute and it provides ragging free campus.
National pharmacy week:
RIPER in association with Indian Pharmaceutical Association (IPA)-Anantapuramu, Andhra Pradesh Local Branch organizes National Pharmacy Week in last week of December every year. The highlights of the pharmacy week such as blood donation camp, health camp, pharma rally by students to create awareness among public, guest lectures by eminent personalities, career awareness program and others.
Public services:
RIPER encouraged the students to take up community service through National Social Service (NSS). The institute has two NSS units comprises of NSS unit-1 and NSS unit-2 provides various community service projects like Planting trees, Conducting health camps in rural areas, Organizing blood donation camps, Advocacy on community health, Creating AIDs awareness, Free Technical Service camps, Consumer Awareness & Food Adulteration program, Yoga & Meditation, Drug & Poison information and many others.
Alumni Association:
RIPER conducts every year alumni programme to the old students. The alumni association committee maintains a list of all the addresses of the old students.